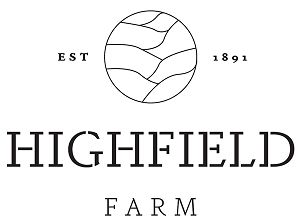 There's always been something mysterious about the Hokonui Hills. Famed for shrouding the illicit whiskey making in its creeks and gullies, the Hokonui Hills have always been a land that gives back to those who look after it.
The Frew farming dynasty have come to know this cloaked kindness. Five generations of Frews have farmed in Southland, with the family calling Otapiri Gorge home since 1984. Deep in the heart of Southland and its pastures some may find the territory unforgiving and raw, but the Frews skilfully farm amongst these rugged hills of Tussock, Manuka and Horopito, buffered by the fresh southerly winds to produce some of the country's finest lamb.
The culmination of their hard work and determination is Highfield Farm, a single source lamb farm producing quality, traceable and tender lamb.
Highfield lambs represent the benchmark of a low-input, high-care farming ethos. As caretakers of the land, the Frews place equal emphasis on the welfare of the animals, the quality of the water and soil, and the protection of the native flora and fauna. These single-source lambs graze on a wide range of forages and are antibiotic, hormone and GMO free.
Highfield farms the Kelso sheep; they're specifically bred to flourish in hill country. The Kelso breed are easy care, foraging types that eat a range of pasture, are very mobile and have a high meat yield. The speckled scrub and rolling contour of Highfield farm lends itself perfectly to raising happy animals. The fertile river flats heartily grow rich clover sustaining the sheep once they've gone through lambing, into their growing phase.
Farming has always been a family affair for the Frews. Marie and Mervyn bought the first Hokonui Hills property in the Otapiri Gorge in the early 80s. Their sons, Dan and Brett, took up the farming mantle and now the family team own and operate three side-by-side farms.
The Frews have always had a knack for making the land work in their favour, with great care taken in the process. Dan and Brett are the team behind the wildly popular bike event, Farm Jam. Since 2008, the international two-wheeled biennial event has attracted some of the biggest names in BMX, free-style motocross and mountain-biking. Thousands flock to the farm to get a slice of the action, something which the Frews love to share with their Southland and sporting communities.
Visitors to Farm Jam, both local and international, are treated to an incredible lamb barbeque meal during the event that showcases the Highfield lambs, setting this unique farm apart and making the exploration of Highfield farm that much more of an experience.
The quality of Highfield Farm's lamb is the culmination of the Frews' farming craftmanship, resulting in a uniquely southern eating experience.